Panels for Camera Power Supplies
SMPS For Fire Security & Camera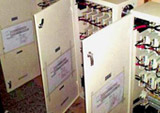 POWER PULSE also manufactures DC Power Panel for cameras at Airports, Hotels, Large Bank Units, Govt. Offices, and Important Buildings. These switch and electrical panel components are suitable for all types of DC power panels. These components work on AC power supplies. The range of our power distribution panels, are mainly used to distribute direct current or DC power to range of devices like CAMERAS, ACCESS CONTROL, RFIDREADERS, ANTENNAS AND OTHER AUTOMATION/ COMMUNICATION DEVICES. These SMPS are based on the most advanced technology available today for developed innovative products. Our SMPS and panels are guaranteed for NO FLICKER in cameras.
| | | | |
| --- | --- | --- | --- |
| Product | Input/Output | Model | Application |
Channel Sleek Power Supply for Furnaces camera & security Systems

Input
85V to 264VDC/172V to 264V/170 to 300V AC 50Hz Single phase
Output
24V DC or 12V DC
Features
Separate ON.OFF
Fuse indicator & connectivity for different cameras
Low ripple
OP temp. range -10° to 50°C

PPxxx*-SD-xxx*
Over Current, over voltage & short circuit protection
Low ripple for better camera output for special cameras used in furnaces & hazardous areas
Available in explosion proof enclosure (on demand) for flame proof cameras specially
**xxx refers to total wattage
**yyy refers to output voltage

Industrial Plants
Cement Plants
Petro Chemical plants Boilers etc.

Panel 1

Input
85V to 264VAC/172V to 264V 50Hz Single phase
Or
-48V DC
Output
12V DC
Wattage
Up to 5KW

PPxxx*-SD-xxx*
Over Current, over voltage & short circuit protection
4 Channel /8 Channel/ 16 Channel/32 Channel with individual voltage adjustment to counter voltage drops across the cable so that cameras or security device
in the end can get right voltage & function with higher efficiency
Single panel can employ 128/32 cameras of 4 each.
Output connectivity by phoenix connectors.

Airports
Malls
Banks
Hotels
Important buildings
Installation Sited (Customer can provide us their requirement to design flexible architecture to employ 128/48/32 cameras through single panel)

Panel 2

Input
85V to 264VAC/172V to 264V 50Hz Single phase
Or
-48V DC
Output
12V DC
Wattage
Up to 5KW
PPxxx*-SD-xxx*
Over Current, over voltage & short circuit protection
4 Channel /8 Channel/ 16 Channel/32 Channel with individual voltage adjustment to counter voltage drops across the cable so that cameras or security device
in the end can get right voltage & function with higher efficiency
Single panel can employ 128/32 cameras of 4 each.

Airports
Malls
Banks
Hotels
Important buildings
Installation Sited (Customer can provide us their requirement to design flexible architecture to employ 128/48/32 cameras through single panel)

Panel 3

Input
85V to 264VAC/172V to 264V 50Hz Single phase
Or
-48V DC
Output
12V DC
Wattage
Up to 5KW

PPxxx*-SD-xxx*
Over Current, over voltage & short circuit protection
4 Channel /8 Channel/ 16 Channel/32 Channel with individual voltage adjustment to counter voltage drops across the cable so that cameras or security device
in the end can get right voltage & function with higher efficiency
Single panel can employ 128/32 cameras of 4 each.

Airports
Malls
Banks
Hotels
Important buildings
Installation Sited

Panel 4

Input
85V to 264VAC/172V to 264V 50Hz Single phase
Or
-48V DC
Output
12V DC
Wattage
Up to 5KW

PPxxx*-SD-xxx*
Over Current, over voltage & short circuit protection
4 Channel /8 Channel/ 16 Channel/32 Channel with individual voltage adjustment to counter voltage drops across the cable so that cameras or security device
in the end can get right voltage & function with higher efficiency
Single panel can employ 128/32 cameras of 4 each.

End customer & system integrators
(Customer can provide us their requirement to design flexible architecture to employ 128/48/32 cameras through single panel